---
Announcements
📣 URGENT: Maryam Masjid is expanding and we need your help to raise the funds required to support these important initiatives. Click here to learn more and purchase your tickets for the fundraising event being held on October 9, 2022 at 6:00 PM.
---
Maryam Masjid is open daily for 5 times Islamic prayers, Friday prayers, and various social activities.
Our mission is to provide a secure and comfortable facility where Believers may gather for the worship of the one and only God ALLAH regardless of race, nationality, ethnicity, gender or age and to serve and to interact with the Muslim and Non-Muslim communities-at-large in accordance with the teachings of the Holy Quran and with the Sunna (way of life) of the Prophet Muhammad (peace be upon him).
Iqama Times (Last Updated: 10/1/2022)
| | |
| --- | --- |
| Fajr | 6:20 AM |
| Dhuhr | 1:30 PM |
| Asr | 5:45 PM |
| Maghreb | Sunset + 7 mins |
| Isha | 8:00 PM |
| Friday Khutbah | 1:10 PM |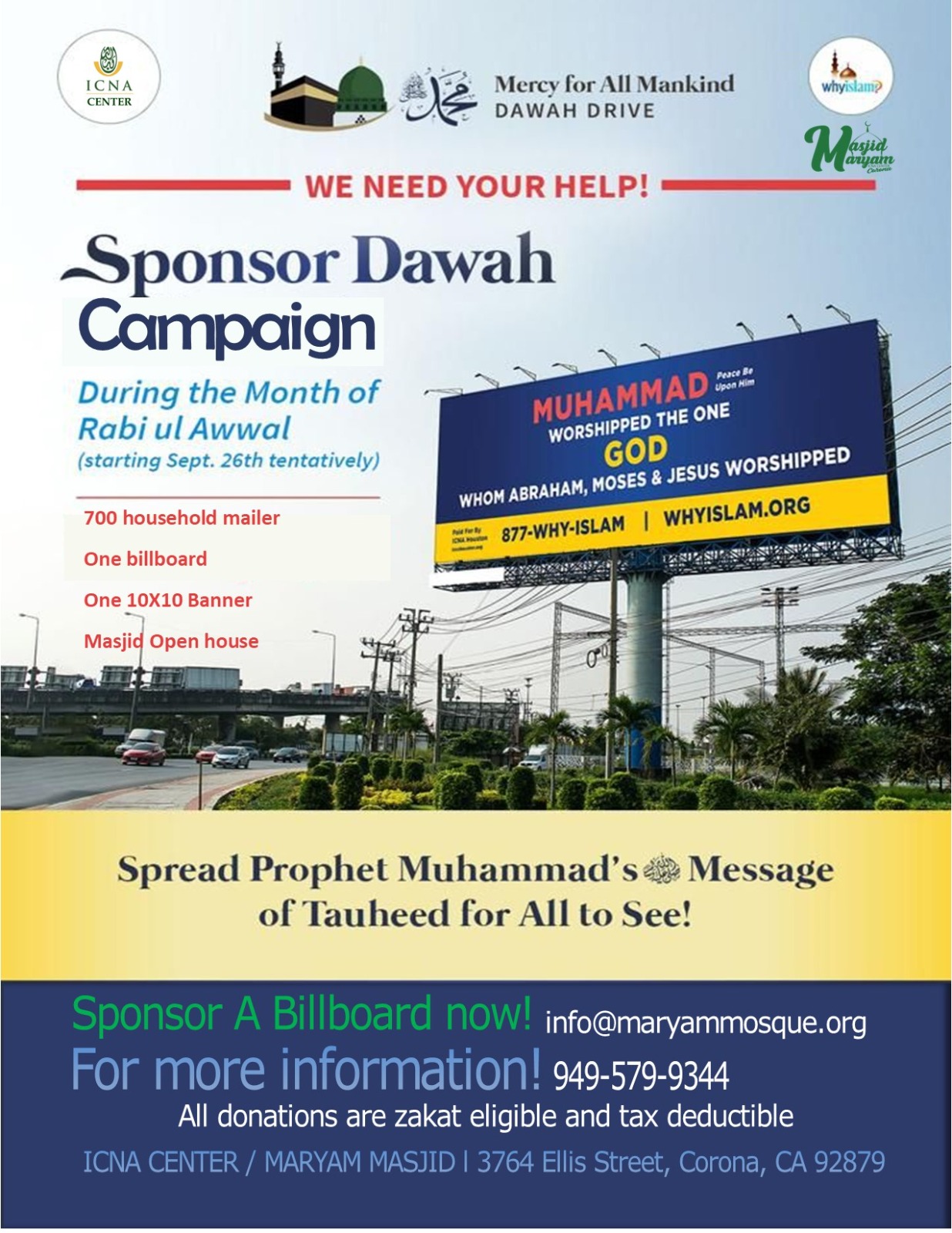 2022-09-16 Dawah Campaign
---
Maryam Masjid Services
---
Maryam Masjid is located at 3764 Ellis St, Corona, CA 92879. There is plenty of parking available at Maryam Masjid as the adjacent lot is also part of the premises (as shown in the image below). We can be reached at +1 (949) 237-3506 or you may email us at info@maryammosque.org.
Stay in the Know!
Join our mailing list to stay informed about our activities